Pet Health Plan
Save money and pay monthly. Spread the cost to give your pet the best preventative healthcare.
At Hanson's Vets we want to make preventative health care easy and affordable, to help you give your pets the best care possible. Our pet health plan is not pet insurance- it covers the essential treatments your pet needs throughout life, such as vaccinations, flea and worm treatments and regular health checks. Extra benefits of the plan include exclusive discounts on many other products and services at the practice. Please see the grid below for what would be included for your pet. Payments are taken by monthly Direct Debit, the grid below also includes the pricing structure.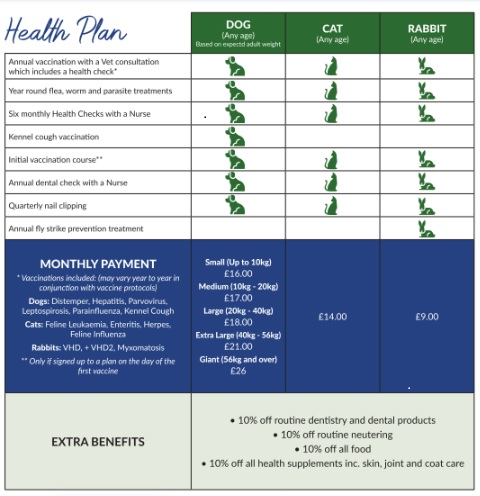 How to join?
Joining the Pet Health Plan is easy. The best way is to come into the practice to complete an application form, alternatively please call us on 0161 928 8367. A one-off joining fee of £10 will be collected with your first monthly direct debit.
You can also sign up to the health plan online by clicking the following link https://hansonvets.plansignup.co.uk/